Good To Know:
Warranty Information:
Lifetime Warranty on Media Tank - 5 Year Warranty on Digital Valve - Softener Performance Guarantee
Assembly Information:
Because of the shipping weight the water softeners above will be shipped with tanks, valve, and media shipped separately on pallet. All systems come with complete easy to understand installation and filling instructions.
Customer Service:
Unmatched lifetime before & after sales support 7 days a week, 365 days a year with knowledgeable, patient representatives!
TWIN-RDWS-MWS Online Orders Include:
Have peace of mind and ensure your new RDWS-MWS Softener does the job with On-The-Spot Hard Water Testing! While supplies last we're including this Hard Water test kit with every RDWS-MWS Water Softener so you can test your water before and after your new softener and see the results for yourself. Easy to Use - Immediate Results​​​ - Includes 50 Testing Strips
The Water Saver Low Waste High Recovery

4-Stage 75gpd 1:1 Reverse Osmosis Filtration System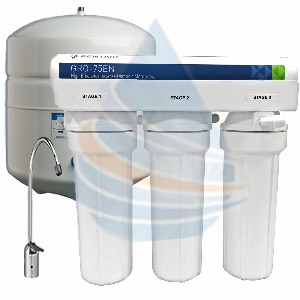 Appearance may vary
Reverse osmosis filters are designed to remove a multitude of contaminants from your water, including but not limited to: high TDS, arsenic, barium, chromium, copper, lead, nitrate, sulfate, sodium, and chloride. The number one concern for home owners thinking about having a drinking water RO filter in their home is how much water they're going to waste. Most drinking water RO systems can waste a scary 4-7 gallons for every gallon made, but not our Water Saver Drinking Water RO Purification System!
These compact state-of-the-art reverse osmosis drinking water filters provide superior water quality, eliminating the cost and inconvenience of bottled water, while saving up to 4 times the water of conventional drinking water RO systems. Standard under-the-counter RO drinking water filters will drain up to 4-7 gallons of water for every gallon of purified water made, but the new Pentair GRO Membranes are specially designed to save water and provide an incredible 1:1 product to waste ratio. Put that on top of our specially designed undersink system and you've got the ultimate solution for clean drinking water!
You can use the Water Saver Drinking Water RO System as your primary drinking water source or easily replace your old existing wasteful RO drinking filter with the advanced technology the Water Saver has to offer!
This Quality Water Purification System Offers:
Super High Efficiency 75gpd Membrane
50% Recovery Rate (1:1 Product/Waste Ratio)
Compact Space-Saving Undersink Design
4 Stage Filtration Process - Described Below
Encapsulated Membrane Design for Quick At-Home Replacement
Long Reach Designer Dispensing Faucet
Includes Color-Coded Fittings & All Tubing for Simple Installation & Ease of Operation
Easily Replace Your Outdated, Wasteful RO with Integrated John Guest Fittings!
High Quality Water at an Affordable Price!
Stages:
Stage One: 5 Micron Particulate Prefilter - Removes Dirt, Sediment, Sand, Rust, and Other Suspended Solids
Stage Two: Activated Carbon GAC Prefilter - Reduces Chemicals, Chlorine, Insecticides, Pesticides, VOCs
Stage Three: High Recovery RO Membrane - Removes 93-98% of Dissolved Minerals, Salts, and Other Contaminants
Stage Four: Post Carbon Block Filter - Polishing Filter That Removes Residual Chemicals, Tastes, and Odors
✔ Auto Shut-off Valve (conserves water)
✔ Flow Restrictor - modified capillary
✔ Long Reach, Non-Airgap Faucet
✔ John Guest Quick Connect Fittings
✔ Great 2 Year Warranty



RainDance Water Systems


Water Saver

Low Waste
Reverse Osmosis Drinking Water System


Model # Water Saver 75gpd 4 Stage RO System
Includes: 75gpd RO system - Dimensions: 17"L x 7"W x 19"H
Includes: 3.2 gallon storage tank - Dimensions 11"D x 15"H
Total System Weight: approx. 30lbs
Power: Non-Electric
Feed Water Pressure: 40psi min / 70psi max
Feed Water Temperature: 40*F min / 85*F max
Feed Water pH: 3.0 min / 11.0 max
Feed Water Iron: <0.3ppm
Feed Water Manganese: <0.05ppm
Total Dissolved Solids (TDS): 2,500ppm normal max