RainDance Iron Filters can accommodate well water pump flow rates from 8gpm up to 150gpm and can be installed on 3/4" up to 2" plumbing lines.
What Is The Iron Max? The Iron Max from RainDance Water Systems is an automatic backwashing iron filter engineered for whole house well water filtration, irrigation water and commercial business. The Iron Max can accommodate well water pump flow rates from 8gpm up to 100gpm and can be installed on 3/4" up to 2" plumbing lines. Why Do You Need The Iron Max? If you are experiencing unpleasant metallic tastes, rust particles, staining on the bath and sink and other plumbing fixtures, or red water and rotten egg smelling odors, the chances are that your well water may have iron, manganese or hydrogen sulfide problems. The Iron Max can filter these contaminants as well as sediment to provide crystal clear clean water to your home, business and irrigation system. Should I Have My Water Tested Before I Buy The Iron Max? Yes! Not all well water sources are universal or the same. What if your well has iron bacteria or colloidal iron? Most well water filter systems cannot handle these contaminants.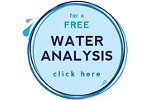 If you already have a detailed water analysis we happily provide free consultation to recommend the best water treatment solution(s) for your water problem(s). Send us your water analysis via email to: Support@RainDanceWaterSystems.com Attn: Well Water Consultation or send it via Live Chat and one of our experienced Live Chat Representatives will walk you through the process of finding the best filter for you. Haven't had your water tested yet? No problem! We offer FREE well water testing.


Q: Why Buy The Iron Max? Compare:

A: 20+ years in the water treatment industry - We design affordable, reliable water treatment packages built to last - We offer FREE transferable warranties with all Iron Max filters - Free delivery within the continental USA - Installation kit included with most systems - Free water testing for as long as you own your water filter - 365 day expert technical support / customer service - After hours, weekend and holiday support included - Safe & secure online shopping experience or order over the phone - Tons of happy and satisfied customers worldwide - Check out our reviews to see why our customers love our products - We do not buy or solicit reviews or testimonials.
Iron Max-9
Flow Rate: 8gpm
Pipe Size: 3/4" or 1"
1-5 Person Household / 1-2 Bathrooms
Best For Approx. 1-500 GPD
Click To View Special Price




Iron Max-10
Flow Rate: 10gpm
Pipe Size: 3/4" or 1"
1-8 Person Household / 1-3 Bathrooms
​Best For Approx. 1-1000 GPD
Click To View Special Price



Iron Max-125-10
Flow Rate: 12gpm
Pipe Size: 1" or 1.25"
1-8 Person Household / 1-3 Bathrooms / Irrigation
​Best For Approx. 1-1000 GPD
Click To View Special Price

Iron Max-125-12
Flow Rate: 18gpm
Pipe Size: 1" or 1.25"
1-10 Person Household / 1-4 Bathrooms / Irrigation
Best For Approx. 1-1500 GPD
Click To View Special Price