Life is too short to live with high nitrates in your well water - let the Nitrate Eater provide clean water at every tap!
Whole House Nitrate Eater Guide:

Whole House High Nitrate Filtration from Washington to Nevada to Maryland to Oregon to Pennsylvania to Arizona To Delaware Well Water Nitrates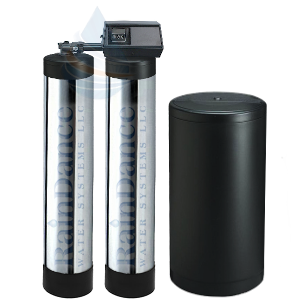 The Best Nitrate Filter RainDance Water Systems Has To Offer - Buy Direct And Save!
What Are Nitrates In Well Water? Nitrates and nitrites are nitrogen-oxygen chemical units which combine with various organic and inorganic compounds. Nitrates in concentrations above 10 ppm expressed as N* are considered unsafe. Nitrates have no detectable color, taste or odor at the concentrations involved in drinking water supplies, and they do not cause discoloration of plumbing fixtures, so they remain undetectable to our senses. Carbon filters cannot remove nitrates - boiling your water does not remove nitrates
High nitrate levels in well water can cause methemoglobinemia or blue baby syndrome, a condition found especially in infants under six months. The stomach acid of an infant is not as strong as in older children and adults. This causes an increase in bacteria that can readily convert nitrate to nitrite (NO2).
Nitrite is absorbed in the blood, and hemoglobin (the oxygen-carrying component of blood) is converted to methemoglobin. Methemoglobin does not carry oxygen efficiently. This results in a reduced oxygen supply to vital tissues such as the brain. Methemoglobin in infant blood cannot change back to hemoglobin, which normally occurs in adults.
The EPA has approved ion exchange and reverse osmosis treatment methods for removing nitrates/nitrites. The maximum contaminant level (MCL) is 10 parts per million (ppm) nitrate as nitrogen (NO3 as N). A laboratory may also choose to express nitrate as nitrate (NO3 as NO3) in the water analysis, and in this case, the EPA MCL is 44.2 ppm (10 ppm as N is equivalent to 44.2 ppm as NO3)
We offer both Single Tank & Twin Tank RainDance Nitrate Eaters: The advantage of the twin tank set-up is that it provides an uninterrupted continuous supply of soft nitrate filtered well water to your home, business or livestock waterers These systems feature two tanks for treating high nitrates and hard water. Water is softened and nitrates removed in one tank while the other is in a standby mode. When the removal capacity of the first tank is reached, the system automatically switches tanks. The first tank is then recharged. This cycle is repeated when the second tank reaches its capacity point.
How to remove nitrates from well water - In the ion exchange process, well water containing nitrates is passed through a modified RainDance Nitrate Eater water softener. This special softener contains a resin that is manufactured solely for the purpose of removing nitrates in the water. As they are removed they are replaced (exchanged) with chloride. The source of chloride is from the salt used to regenerate the unit which can be either traditional softener salt - sodium CHLORIDE or a special salt called potassium CHLORIDE. Rather than waste either the sodium or the potassium we place the special nitrate resin on top of regular softening resin and along with removing the nitrates we also soften the water with the same amount of salt being used. We get a free bonus of softening.

Of particular importance is the proper selection of the nitrate removal resin. It is specially formulated to cling tightly to the nitrates a until regeneration is required and not let them release into the water in excess amounts --- a process called "dumping". As long as the equipment is functioning, safety is virtually guaranteed. A meter control on the Nitrate Eater is very important to insure that regeneration is done even when unexpected excess water use occurs.
Our Nitrate Eater uses NSF Approved Certified 61 filtration media. Easy To Use: The Nitrate Eater uses a water efficient metered initiated automatic backwashing control valve and allows the user to use either standard sodium water softener pellets or use the sodium-free potassium pellet option!