Spot-Free Water Wash & Rinse: To achieve the very best results from your vehicle wash a premium Reverse Osmosis Water System should be considered.
Our RO Systems are designed to produce demineralized rinse water on site, on demand and ready for use in your vehicle wash operation. The processed water is used as a final rinse, providing you with a wash quality which is second to none. The Reverse Osmosis process allows ordinary tap water to be purified typically reducing the TDS (mineral spotting) of mains water by 95%- 99%.
Spot Free Rinse Water: Total Dissolved Solids Treated Through Reverse Osmosis
Total dissolved solids (TDS): These are the mineral salts, including but not limited to calcium, magnesium, sodium, chloride, sulfate, potassium, and more, that cause spotting in many water applications. As rinse water dries it evaporates into the atmosphere - anything that is not water remains deposited on the surface thus creating a spot that impairs the finish on paint, glass, metals etc. Spot-free water processed through a reverse osmosis system is low in mineral content. Mineral content is measured as total dissolved solids (TDS), and water containing less than 30 parts per million (PPM) of TDS will typically produce a spot free water.
Small Compact Size High Performance Car Wash Reverse Osmosis Systems
State Of The Art Stainless Steel CAR WASH WALL MOUNT TSM RO Series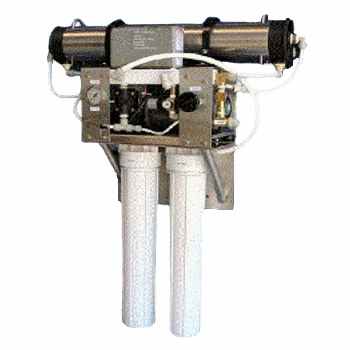 TSM QUALITY COMMERCIAL RO - User Friendly!
TSM series of commercial Reverse Osmosis water purifiers built to suit the needs and requirements of commercial pure water users. This misting and humidification systems, car wash facilities, auto detailers, car dealerships, and many other businesses that must have consistent high quality water for their daily operations. The key factors of reliability, serviceability, and consistent performance with minimum user intervention are achieved in the solid design of the TSM systems. Stainless steel is used throughout; in frame, pressure vessels and fastening hardware to provide the structural strength and corrosion resistance appropriate for a commercial appliance.
The TSM system design is optimized for wall mount installation. The four models; 400 GPD, 800 GPD, 1200 GPD and 1500 GPD all occupy the same very compact footprint. This allows flexibility in accommodating the limited space available in most commercial utility equipment locations. Quick connect tube fittings on all system ports further simplifies installation and service. Most important, all TSM models incorporate the most reliable combination of proven reverse osmosis hydraulic design and state of the art Thin Film membrane elements to provide the long term performance expected by commercial users.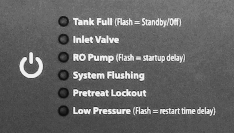 New: Easy Automatic RO Control Panel now included with the RainDance TSM RO/DI Package. Our integrated electronic controller offers automated control of several system functions and helps prolong the life of the RO motor and membrane, providing long-term and reliable operation. Built with superior engineering, this control panel eliminates confusing switches and lack of feedback provided by other generic RO systems.

The Automatic RO Control Panel allows the business owner to easily monitor the performance of their system by using easy-to-read light up indicators for common RO functions. Certain features such as the System Flushing and Low Pressure provide added protection by automatically cleaning the RO membrane and shutting the RO system off in events of low water pressure. Low water pressure can cause an RO system to cycle on and off which can burn out the motor and increase noise level. Other features like the RO Pump and Tank Full keep you informed when the system is running and you have a full tank of purified water. With automated control it has never been easier to operate a Light Commercial RO system!
*Offer valid on orders made after 7/01/18
TSM FEATURES
All TSM Reverse Osmosis systems include the following important quality features:
✔
Stainless Steel Frame & Pressure Vessels
✔
Thin Film Composite Membranes
✔
High capacity attached sediment pretreatment filters sediment, dirt, rust, and debris.
✔
High capacity attached carbon pretreatment filters chlorine, organic chemicals, and VOCs.
✔
High Performance 3/4 HP Motors
✔
Positive Displacement Rotary Vane Pump
✔
Integral Hydraulic Manifold Assembly
✔
Fast Flush Control
✔
Low Feed Pressure Cutout Switch
✔
Tank Pressure Control Switch
✔
Delrin Orifice or Teflon Tube Flow Control
✔
Feed Inlet Solenoid Valve
✔
SS Needle Valve Pressure Control
✔
Product Tank Pressure Relief Valve

✔ New: All TSM RO Spot Free Car Wash Packages Include A Post DI Replaceable Cartridge System - Read Details Below
TSM Wall Mount Reverse Osmosis Spec Sheet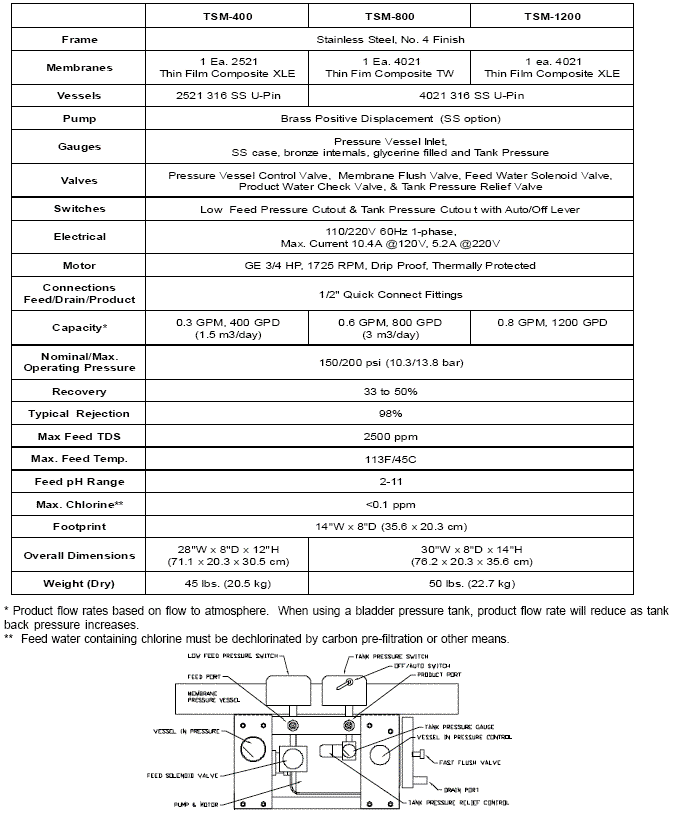 All Car Wash Reverse Osmosis Systems Include A Separate Post Deionized Water System For Spot Free Water!
Part ##

Gallons Per Day

Dimensions

Voltage

Price

TSM-RO-400

400GPD

28"W x 8"D x 12"H
w/ attached prefilters - 25"H

110V

TSM-400: 4,298.00




TSM-RO-800

800GPD

28"W x 8"D x 14"H
w/ attached prefilters - 37"H

110V

TSM-800: $4,498.00


TSM-RO-1200

1,200GPD

28"W x 8"D x 14"H
w/ attached prefilters - 37"H

110V

TSM-1200: $4,598.00




TSM-RO-1500

1,500GPD

45"W x 8"D x 14"H
w/ attached prefilters - 37"H

110V

TSM-1500: $4,798.00

Operating Parameters: Max TDS-2500ppm, Total iron is less than 0.3ppm, Manganese is less than 0.05ppm, Water hardness below 5 gpg.
TSM Spot Free Car Wash RO Online Orders Include:
FREE Separate Post DI Cartridge - Mix Bed High Purity Post DI Replaceable Cartridge: Ultra High Purity water > 18 Megohm Deionizer. These filters are placed after the RO system to remove the last sum of TDS, completing the spot-free purification process. (1) 4" x 20" Big Blue Deionization Cartridge mounted separately. Includes housing, bracket, wrench and one DI cartridge.

TDS Tester - Monitor your TDS levels before and after the RO Water System to see the results yourself. This portable waterproof tester offers high accuracy total dissolved solids (TDS) measurements in a single tester!
In almost all reverse osmosis applications, providing pretreatment for the feed water protects and extends the life of the purification. While there are some exceptions, some type of pretreatment equipment is almost always used to protect the RO system. We offer complete pretreatment capabilities that include, iron filters, sediment removal, water softeners, chlorine filters, antiscalant systems, UV ultraviolet disinfection and more. Contact Sales@RainDanceWaterSystems.com for all your pretreatment needs. Note: Any free pretreatment offers will be included in your quote.
Reverse Osmosis Storage Tank Options:
Reverse osmosis systems produce water as a small stream, so a separate storage tank is needed to store water for use. Use your own storage tank or combine with one of ours!
Use or Source Your Own Atmospheric Storage Tank
· We are now giving our customers the option of using or sourcing their own storage tank!
· Most atmospheric storage tanks are compatible with our whole house RO packages!
· Find the right storage tank that fits your space requirements and save even more!
· Use your own storage tank and add our FREE float switch & float assembly!
· Preinstalled float switch on RO conserves water by shutting off RO when tank is full!
*Must be purchased with Whole House RO Packages at the same time.


Float Switch & Float
FREE


200 Gallon Atmospheric Storage Tank

· Approx. 31" dia. x 72" ht.

· Includes complete float for tank and float switch on RO for full tank shut off.

*Appearances may vary


TK-200/Float
Price: $1,195.00ea


300 Gallon Atmospheric Storage Tank

· Approx. 35" dia. x 85" ht.

(Designed to fit through standard doorways)

· Includes complete float for tank and float switch on RO for full tank shut off.

*Appearances may vary


TK-300/Float
Price: $1,295.00ea


500 Gallon Atmospheric Storage Tank

· Approx. 47" dia. x 83" ht.

· Includes complete float for tank and float switch on RO for full tank shut off.

*Appearances may vary


TK-500/Float
Price: $1,495.00ea