Water purified by reverse osmosis has had often greater than 95% of dissolved ions and 99% of most contaminants removed. Why a reverse osmosis system from RainDance Water Systems? Because we can customize absolutely everything tailored to the customer's water chemistry and ambient operating conditions. A reverse osmosis unit for Japan will be significantly different from one sent to Alaska. Choose from our most popular cost effective, user friendly commercial reverse osmosis systems listed below. Choose from our Skid Mount, Vertical Mount, Horizontal Mount, Wall Mount, Compact and stainless steel reverse osmosis systems.
We offer reverse osmosis water purification solutions for manufacturing including bottled water stores, pharmaceutical, electronic industry, process water, chemical industry, electroplating industry, electrical power generating, polymer solutions and more.
RainDance Water Systems Specialty Markets offers a wide variety of innovative Water Treatment products to meet diverse application needs within the manufacturing, craft & micro-breweries, Hydroponics, greenhouses, organic farms, food processors, restaurants/coffee shops, and humidity control systems industries.
Small Compact Size High Performance Reverse Osmosis Systems
State Of The Art Stainless Steel TSM RO Series
TSM Series - TSM Stainless Steel Reverse Osmosis Systems ideal for minimum footprint water filtration uses. They are also perfect for whole house home use, coffee shops, cafes, restaurants, spot-free rinse, labs, small business, greenhouses, organic growers and commercial water filtration. These units are compact, light and are designed for easy access to all major system components. The TSM (RO) system is a compact, heavy duty stainless steel Reverse Osmosis water purifier for users requiring 400 to 1500 gallons per day water production. As with all our purifier products, the TSM reverse osmosis systems are fully equipped with the instruments and controls needed for reliable long term operation.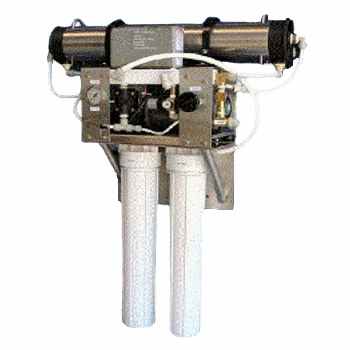 TSM QUALITY COMMERCIAL RO - User Friendly!
TSM series of light commercial reverse osmosis water purifiers built to suit the needs and requirements of commercial pure water users. This includes restaurants, coffee stores, convenience stores, microbreweries, supermarket produce and food preparation operations, misting and humidification systems, car wash facilities, and many other businesses that must have consistent high quality water for their daily operations. The key factors of reliability, serviceability, and consistent performance with minimum user intervention are achieved in the solid design of the TSM systems. Stainless steel is used throughout; in frame, pressure vessels and fastening hardware to provide the structural strength and corrosion resistance appropriate for a commercial appliance.

The TSM system design is optimized for either shelf mount or wall mount installation. The four models; 400 GPD, 800 GPD, 1200 GPD and 1500 GPD all occupy the same very compact footprint. This allows flexibility in accommodating the limited space available in most commercial utility equipment locations. Quick connect tube fittings on all system ports further simplifies installation and service. Most important, all TSM models incorporate the most reliable combination of proven reverse osmosis hydraulic design and state of the art Thin Film membrane elements to provide the long term performance expected by commercial users.
TSM FEATURES
All TSM Reverse Osmosis systems include the following important quality features:


✔

Stainless Steel Frame & Pressure Vessels


✔

Thin Film Composite Membranes

✔

High capacity attached sediment pretreatment filters suspended solids (dirt, rust, sediment, etc.).

✔

High capacity attached carbon pretreatment filters chlorine, organic chemicals, and VOCs.


✔

High Performance 3/4 HP Motors


✔

Positive Displacement Rotary Vane Pump

✔

Integral Hydraulic Manifold Assembly


✔

Fast Flush Control


✔

Low Feed Pressure Cutout Switch


✔

Tank Pressure Control Switch


✔

Delrin Orifice or Teflon Tube Flow Control


✔

Feed Inlet Solenoid Valve


✔

SS Needle Valve Pressure Control


✔

Product Tank Pressure Relief Valve
*New Blending Option
- The basic configuration of the TSM series products is ideal for many typical water purification applications. However, there are certain users such as craft/microbreweries, labs, manufacturing, home use, and premium coffee houses that often desire the ability to monitor and control the TDS level of the output purified water. This option is available on TSM-400 to 1500 systems. The Blend option includes a digital TDS monitor and a metering needle valve. This option allows a precise amount of filtered feed water to be added (blended) to the product water flow and the blended TDS level is displayed on the monitor readout
*Required: Please mention that you would like to add the FREE "Blending Option" at the time of ordering.

✔
All Systems Wet Tested Before Shipping
Operating Parameters: Max TDS-2500ppm, Total iron is less than 0.3ppm, Manganese is less than 0.05ppm, Water hardness below 5 gpg.
FREE SHIPPING ON ALL TSM REVERSE OSMOSIS WITHIN THE CONTINENTAL UNITED STATES.OVERSEAS SHIPPING AVAILABLE OR HAVE YOUR FREIGHT FORWARDER PICK-UPNO CHARGE FOR EXPORT CRATING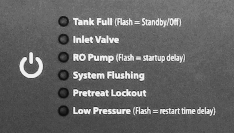 New: Easy Automatic RO Control Panel now included with the RainDance TSM RO. Our integrated electronic controller offers automated control of several system functions and helps prolong the life of the RO motor and membrane, providing long-term and reliable operation. Built with superior engineering, this control panel eliminates confusing switches and lack of feedback provided by other generic RO systems.

The Automatic RO Control Panel allows the business owner to easily monitor the performance of their system by using easy-to-read light up indicators for common RO functions. Certain features such as the System Flushing and Low Pressure provide added protection by automatically cleaning the RO membrane and shutting the RO system off in events of low water pressure. Low water pressure can cause an RO system to cycle on and off which can burn out the motor and increase noise level. Other features like the RO Pump and Tank Full keep you informed when the system is running and you have a full tank of purified water. With automated control it has never been easier to operate a Light Commercial RO system!
*Offer valid on orders made after 7/01/18
Part #

Gallons Per Day

Dimensions

Voltage

Price

TSM-RO-400

400GPD

28"W x 8"D x 12"H
w/ attached prefilters - 25"H

110/220

TSM-400: $4,298.00




TSM-RO-800

800GPD

28"W x 8"D x 14"H
w/ attached prefilters - 37"H

110/220

TSM-800: $4,498.00


TSM-RO-1200

1,200GPD

28"W x 8"D x 14"H
w/ attached prefilters - 37"H

110/220

TSM-1200: $4,598.00




TSM-RO-1500

1,500GPD

45"W x 8"D x 14"H
w/ attached prefilters - 37"H

110/220

TSM-1500: $4,798.00

Operating Parameters: Max TDS-2500ppm, Total iron is less than 0.3ppm, Manganese is less than 0.05ppm, Water hardness below 5 gpg.
In almost all reverse osmosis applications, providing pretreatment for the feed water protects and extends the life of the purification. While there are some exceptions, some type of pretreatment equipment is almost always used to protect the RO system. We offer complete pretreatment capabilities that include, iron filters, sediment removal, water softeners, chlorine filters, antiscalant systems, UV ultraviolet disinfection and more. Contact Sales@RainDanceWaterSystems.com for all your pretreatment needs. Note: Any free pretreatment offers will be included in your quote.
RainDance Water Systems TSM Reverse Osmosis Options List:

TSM REVERSE OSMOSIS HYDRO-PNEUMATIC PRESSURIZED STORAGE TANKS:

No room for a storage tank and re-pressure pump? Use these pre-charged Reverse Osmosis System pressure tanks when you have limited space requirements and lower water volume demand. Perfect for restaurants, cafes, labs, offices, wet bar, spot free rinse, and more

.
RO-Mate-30 Pressurized Water Tank

· System Connection: 1" male NPT
· Height: 44" inches
· Diameter: 16" inches
· Volume: 29.5 Gallons
· Water Capacity: 11-16 Gallons @ 40 PSI
· Weight: 23 Lbs​

RO-Mate-30 Price: $575.00ea



RO-Mate-40 Pressurized Water Tank
· System Connection: 1" male NPT
· Height: 57" inches
· Diameter: 16" inches
· Volume: 40 Gallons
· Water Capacity: 20-24 Gallons @ 50 PSI
· Weight: 30 Lbs​
RO-Mate-80 Pressurized Water Tank
· System Connection: 1" male NPT
· Height: 56" inches
· Diameter: 25" inches
· Volume: 80 Gallons
· Water Capacity: 45-48 Gallons @ 50 PSI
· Weight: 58 Lbs​
Reverse Osmosis Storage Tank Options:
Reverse osmosis systems produce water as a small stream, so a separate storage tank is needed to store water for use.

Add one of our storage tanks below or source your own tank and we will include a float and float switch at no extra charge!
Use or Source Your Own Atmospheric Storage Tank
· We are now giving our customers the option of using or sourcing their own storage tank!
· Most atmospheric storage tanks are compatible with our whole house RO packages!
· Find the right storage tank that fits your space requirements and save even more!
· Use your own storage tank and add our FREE float switch & float assembly!
· Preinstalled float switch on RO conserves water by shutting off RO when tank is full!
*Must be purchased with Whole House RO Packages at the same time.


Float Switch & Float
FREE


200 Gallon Atmospheric Storage Tank

· Approx. 31" dia. x 72" ht.

· Includes complete float for tank and float switch on RO for full tank shut off.

*Appearances may vary


TK-200/Float
Price: $1,195.00ea


300 Gallon Atmospheric Storage Tank

· Approx. 35" dia. x 85" ht.

(Designed to fit through standard doorways)

· Includes complete float for tank and float switch on RO for full tank shut off.

*Appearances may vary


TK-300/Float
Price: $1,295.00ea


500 Gallon Atmospheric Storage Tank

· Approx. 47" dia. x 83" ht.

· Includes complete float for tank and float switch on RO for full tank shut off.

*Appearances may vary


TK-500/Float
Price: $1,495.00ea

TSM REVERSE OSMOSIS REPRESSURE SYSTEM:

RDWS 10gpm Upgraded Delivery Pump
· Fully integrated compact booster pump draws water from RO storage tank and delivers perfect water pressure to all taps.
· Installs quickly and easily and features one of the lowest noise levels (47 dB(A)) in it's class.
· Dimensions: 16"L x 7.6" W x 12"H; 1" Inlet/Outlet Ports. Power is 110v, 1-phase. 1 HP Motor. Output is 10 gpm at 50psi.
· Includes (2) 1" Stainless Steel Flex Hoses for easy installation!


RP-10GPM
Price: $795.00ea

TSM Wall Mount Reverse Osmosis Spec Sheet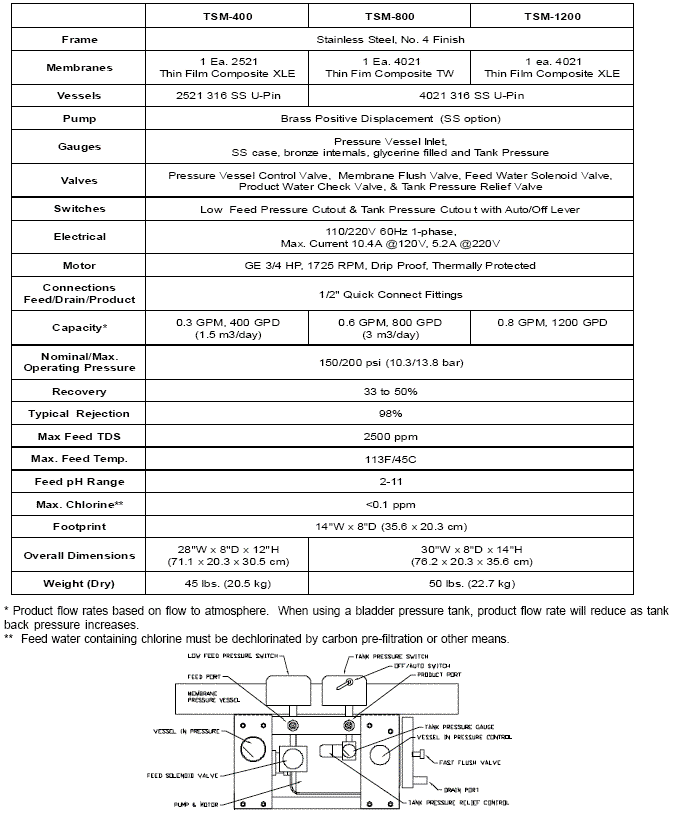 A small sample of our USA commercial water treatment customer base includes: The U.S. Army, The U.S. Environmental Protection Agency (EPA), The U.S. Fish and Wildlife Federation, The United States Coast Guard, Federal Aviation Administration, Lockheed Martin, Gaffney-Kroese Supply Corp, Washington St. National Park Service, San Diego State University, Arizona State University, Palomar College, Miasole, Trico Products Corporation, Affinity Flavors, Snake River Power Plant, South Placer Municipal Utility District, Berkley Surgical Corporation, Abengoa Energy of NE, Advanced Marine PTE., Quinlan Texas Elementary School, Hunter Industries, Sonance Corp., Owens Brigam Medical, 1st Choice GMAC Realty, Century 21 Realty, Coldwell Banker Realty, Austin Productions, Fairfield Country Club, Auer Precision Inc., Deer Park Monastery, Global Food Technologies, Oral Bio Tech, Earthbound Farms, Old Country Vineyards, Fairbanks Farms, Golden Eagle Thoroughbred Horse Farm, Buckridge Plantation and Stables, Just to name a few.


Go Back to the Complete Commercial Reverse Osmosis Catalog Page >>>>