Whole House Reverse Osmosis Systems for Every Application from 400gpd to 12,000gpd
Whether you need total home water purification or want a specific contaminant to be removed some applications require the consistent purity and quality that only a RainDance whole house reverse osmosis system can provide.
How To Size Your Whole House Reverse Osmosis System: Running any of our R.O. Systems listed below at 100% duty cycle (24/7) will significantly shorten the life of the pump/motor so it is not recommended. Generally, these reverse osmosis systems will do well if run at 75% (3 hours on, 1 hour off for example) or less duty cycle. The usual sizing formula for a Whole House R.O. System is to make it twice the actual needed water flow. If the usage needs 400 GPD then a 800 GPD system would be appropriate. This also allows some excess system capacity in case the water usage requirement rises later on.
Our specialty has been providing custom whole house reverse osmosis systems to handle brackish water with extremely high total dissolved solids (TDS). Our most notable whole house RO projects include: Nebraska Feed Water TDS 14,714ppm; after our RO System 188ppm -Montana Feed Water TDS 5,866ppm; after our RO system 79ppm - California Feed Water TDS 10,200ppm; after our RO system 175ppm - Wyoming Feed Water TDS 6,304ppm; after our RO system 149ppm - Nevada Feed Water TDS 2,200ppm, after our RO system 52ppm - Texas Feed Water 8,485ppm; after our RO system 122ppm - New Mexico Feed Water TDS 3,600ppm (mostly Sulfate at 2,100ppm); after our RO system 36ppm.
Our whole house reverse osmosis systems can be used to purify city treated or well water applications to provide the highest water quality at every tap. Our whole home RO units are also specially designed to filter problematic well water containing one or more of the following contaminants: brackish water, arsenic, silica, nitrates, heavy metals, chromium, sulfates, chlorides, sodium, fluoride, organic chemicals, high total dissolved solids, and more. We can also provide custom whole house systems for river, pond, sea water, and bore hole water sources where premium water purification is desired.
Reverse osmosis has been identified by EPA as a best available technology for uranium, radium, gross alpha, and beta particles and photon emitters. It can remove up to 99 percent of these radionuclides, as well as many other contaminants (e.g., arsenic, nitrate, and microbial contaminants) We offer standard whole house well water reverse osmosis systems packages, custom & build your own RO package.
Whole House Reverse Osmosis Analytical Services: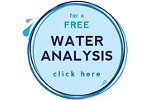 Water Analysis - The only way to ensure that a whole house reverse osmosis system will be both optimally effective and efficient is to plan & design each system on the application and on a complete breakdown of the raw water to be treated. RainDance Water Systems will thoroughly analyze your current water analysis report before making a recommendation. Once that recommendation is made, you can have complete faith that your RO system will work at its peak potential over a long period of time. You can choose to buy a reverse osmosis system "off the rack" and take your chances or you can let us tailor make a system based upon your specific needs. This is what sets Raindance Water Systems residential & commercial reverse osmosis systems apart from all the rest. Please email your water report to: Support@RainDanceWaterSystems.com Attn: WH-RO - Once our engineers have reviewed your water chemistry they will run an estimated post ro system water quality projection to let you know the best water quality you can expect after our systems.
Technical Support (we are here when you need us)
RainDance Water Systems offers the best whole house reverse osmosis system tech support with knowledgeable agents before and after each purchase - 7 days a week! We have also extended our Online Live Chat hours - You can now chat with a live specialist from 5am-10pm PST
Reverse Osmosis Operations Support
RainDance Water Systems will assist in properly implementing the use of our whole house reverse osmosis systems. Each system includes an instruction manual and system diagram and our technical staff is available 7 days a week.
Reverse Osmosis Consulting Services
From RO system design to identification and elimination of system problems, Our staff will contribute decades of system design and troubleshooting experience to you or your installer. Take advantage of our FREE Consulting Service - if you have any questions regarding the purchase of a whole house reverse osmosis system, maintenance, costs, installation and service. Contact us today at Support@RainDanceWaterSystems.com